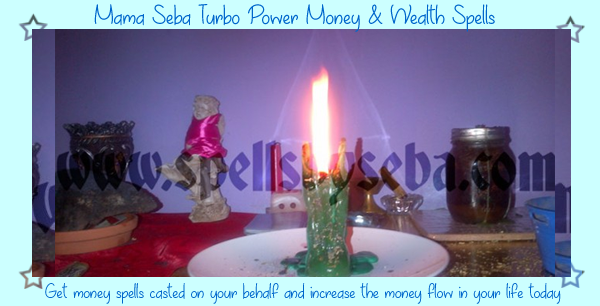 Money Attraction Voodoo Spell $399usd

Attract more money and increase the money flow into your life with this powerful voodoo spell ritual. This ritual casted on your behalf for 7 days to make the spirit of money come to you easily and to increase the amounts of money that CAN get to you. This is a powerful spell, signs are seen in 3 days and results achieved in 9days. 
Money Magic Lamp $750usd
Want to have so much money and make your money grow faster than usual then get this powerful Money Magick lamp worked on your behalf on my altar. This lamp magick is fixed for your needs under the guidance of mama Seba Spirits, signs are seen in 3days and full results in 25days. The results of this magick are powerful and lasting up to 2 full years.
Money Magnet Spell $499usd
Attract money like a magnet with this ritual, let mama Seba work her Spirit to turn you into a money magnet. With this spell money can be found anywhere anyday, just like a powerful magnet money will be magnetized toward you with this ritual. Mama Seba will work her Spirits for 9 days in this ritual to make you and the Spirit of money ONE. The end results: Wherever you go in life, money is there with you. No more broke days and empty wallets guaranteed. This spell gives signs in 3 days to two weeks, full results will be experienced in less than 30days of the casting date.
 To order authentic powerful money spells e-mail spellsbyseba@gmail.com