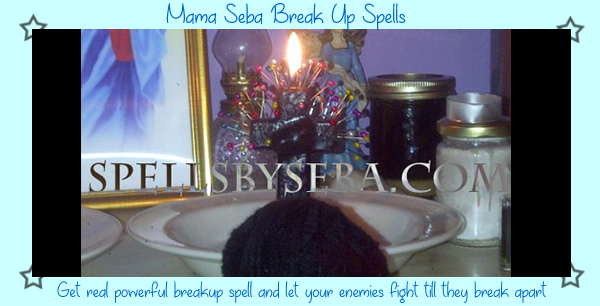 Separation Spell $399usd
Want to separate people from being together then get this powerful separation spell, this spell can work on evil coworkers/evil friends/evil group of people. It will separate any people, make them fight and fuss and wont be able to stand one another anymore! This is a Dark Art spell so cleansing is included on your behalf therefore you will NOT get harmed in any way shape or form with my dark art spells.
Break Up Spell $499usd
This spell is designed to break-up couples relationships or marriages. It is so powerful that the targets start fighting on the very first day of this spell. This spell is casted on your behalf with cleansing ritual so no harm will ever touch you from this dark art magick.
Leave and Go Away Spell $499usd 
Is there someone that bothers the life out of you and you want them gone gone gone. This spell will do just that, it will make any person leave you alone and move far away from you. This spell is a good addition to kick that other person out of your lover's life with the breakup spell above. Make your enemy move miles away from you and never to bother you again for once and for all.
To order Dark Arts spells e-mail spellsbyseba@gmail.com